Victoria BC Tours - Explore Land, Sea and the Sky

There are exiting Victoria BC tours with plenty of options...   When you are in Victoria BC make sure to explore its -  Land, Sea, and the Sky.
There are many ways to move around and explore Victoria BC.  We have tried them all...      Each mode has its own uniqueness.
Victoria, BC is an all year round tourist destination.  Winter is mild, Spring comes early with blooms, blossoms and flowers, Summer has an excellent climate.  What's more to ask for?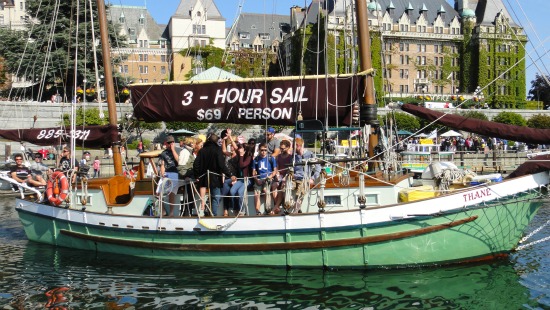 Sailing Trip from Downtown Victoria Harbour
Getting here is likewise easy.  There are two ferry routes to  the downtown harbor from USA then a seaplane terminal with flights to Vancouver and flights to Seattle.  The downtown bus terminal connects you to Vancouver via a ferry route.   All located easy walking distance to each other.
US-Victoria-ferry, Zodiac whale watching boat and a Seaplane
See the Land ...
Explore Victoria BC on foot
Victoria, BC is a town small enough that you can explore easily on  foot, so  it is easy on the wallet too....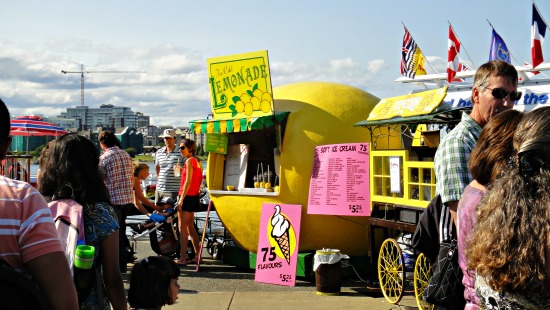 Get ready to see a lot more... If you love to walk
There are  Museums, Shops, Gardens and restaurants  …   During the summer you see colorful flowers and beautiful hanging baskets … 1400 plus ( June to September ) all over the city.  Walkers can  hop into a city tour bus to travel around the city  or take a  public transport bus to go for a short distance.

If you love nature, go hiking on trails.   You can easily walk to town's waterfront.
When the weather is right, go for a nice beach walk or sit and relax on a nice spot on the beach.
1 km from Royal BC Museum there is a Beacon Hill park. This is a free entrance park in Victoria. Visit the park during Summer and spring time. You see, colorful flower beds packed with Roses, Rhododendrons and Dahlias. There are trails in the park with lots of wild flowers. Visit the petting zoo located in the park with the kids to see some animal friends.

Guided walking tours of the city are available.  You will get a narrated guided tour.  Guided Night walk ( Victoria ghostly walks ) is another interesting walking tour if you like walking at night and may be with teenagers who wish to hear ghost stories.
You see.....  Walking is so nice, but there is so long you can walk - see the sign below.  You find its time to switch to another method - a Boat   :)

We are so close to the water ....
Rent a Bicycle, Scooter or Motorcycle
This is a another unique way to see the city.  You get to explore the city at your own pace plus cover more area than on foot. There are several companies that does bicycle and scooter renting in Victoria.   …. Even there are guided bicycle Victoria BC tours of the city available too.
Victoria BC Tours - Rent a Bike to Travel around the City
There are several trails that are perfect for cyclists.  55 km  Galloping Goose trail has easy access right  from downtown Victoria and  popular among cyclists visiting Victoria.

Public Transport

Victoria Downtown is blessed with a very good Public Transport system ( BC Transit ). 

BC transit Double Decker Bus
My daughter loves to travel upper deck on BC Transit Double Decker buses.  Its a a different view of the City.  Not crowded like you see in other towns. 
Front row upper deck on a double Decker bus - Different View of the City
Sightseeing Tour Buses
During summer time we have taken Hop on Hop off Double - Decker bus  tours.  It is an exciting way to explore the city.  Buy a ticket and go for a sightseeing tour.  The bus stops at all interesting locations.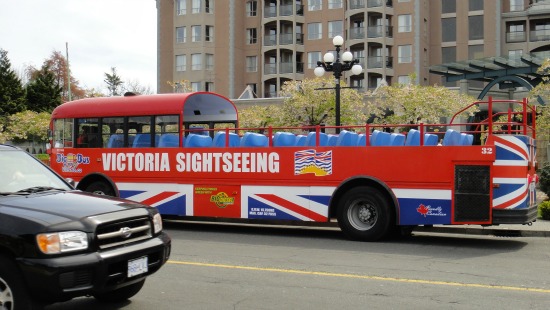 Sightseeing " Big Bus "
Pedicab
This is a unique way to see Victoria.  Environmentally friendly – muscle powered pedicab is an economical way to tour Victoria. We see many visitors who come to Victoria  on cruise ships taking pedicab tours. A pedicab is licensed to pick up passengers at the cruise ship terminal Ogden Point.  Passengers seem to book their scenic tours ahead of time.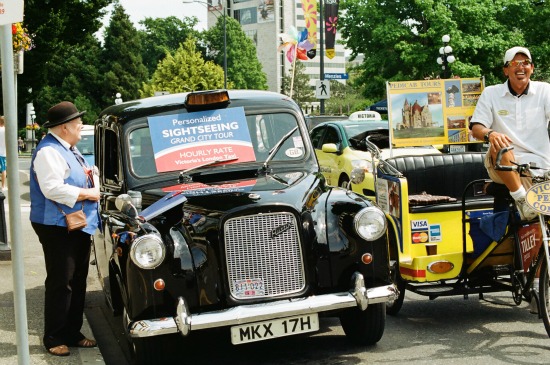 Pedicab and The London Taxi
Rent a Car
Are you here for a longer stay?  Renting a car will give you easy exit out of Victoria downtown to explore Vancouver  Island.   Many major car rental companies like National, Avis, Budget and Hertz  have their businesses here in Downtown Victoria.  If you are arriving at Victoria International Airport (YYJ) rental car facilities available right inside the Airport.


Victoria Taxi Service

There are several taxi companies operating in Victoria BC.  Yellow Cab, Bluebird Cabs, Victoria Taxi, Westshore taxi, Westwind taxi are some examples

If you are traveling to Victoria Airport Yellow cab of Victoria provide airport taxi service to downtown.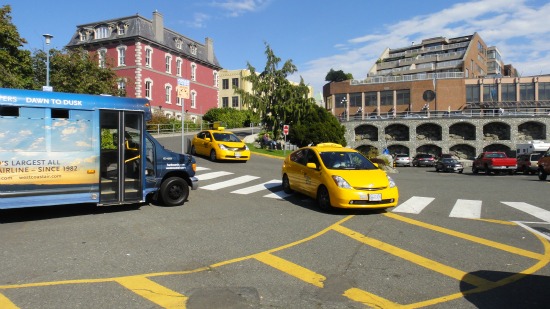 Victoria BC - Taxi Cabs
We live west of Victoria BC ( Victoria Westshore ) so we always call Westshore taxi upon arrival to the Airport.  Just a short wait for them to come and pick us up. We find Westshore taxi is a little cheaper to travel if the destination is west of the town.   However, If you are looking for an economical way from Victoria airport to downtown Victoria Check Akal Airporter shuttle.
Do You Want to Get Around Victoria in Luxury?
Several  limousine companies operating in Victoria.  Cruise ship travelers often love to take a city tour in a limousine.  If you like to get around Victoria in style limousine is your car.   These have the best reviews -    Alpine Limousines, Ascot Limousine, 5 Star Limousines, LA Limousines, Regent Limousine,  Arbutus Limousine


Horse Drawn Carriage Tours – Classic Luxury in Victoria BC
Another exotic way to see Victoria, BC.  This will make your Victoria trip a memorable one.  There are several companies that offer horse carriage tours.  These are the best - Tally-Ho Carriage Tours, Victoria Carriage Tours, Black Beauty Line Ltd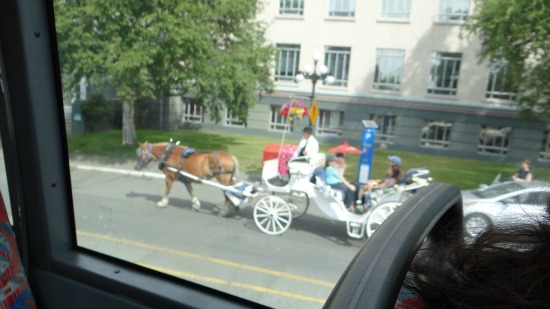 Victoria BC tours - Horse Carriage seen from a Double Decker Bus
Explore The Ocean - Victoria BC

Harbour Ferry + H2O Taxi  ( Operating March 1st  to Oct 31st )
Victoria BC tours are not complete unless if you don't get an opportunity to explore its sea and the waterfront.

This is a fantastic way to see Victoria from the sea.   If you are in Victoria make a point to take the Harbour Ferry tour or Hop on Hop off H2O Taxi.

May to mid September ( Sundays at 10.45am ) you can see the  famous Harbour ferry ballet – free of charge right at the harbour in front of the Empress Hotel.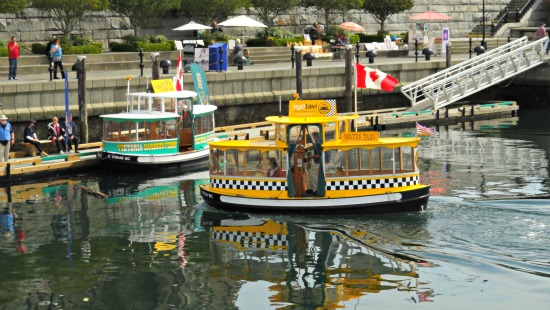 Victoria BC Tours - Harbour ferry and a H2O taxi
Guided Victoria BC tours are offered by Harbour Ferry.  Both Harbour Ferry and H2O taxi provide water transportation to different points in town for a low fee.

On our short trips we have seen a lot of sea life including harbor seals, otters, blue herons and sea birds.

Seals near the harbor are quite common.  There is a fish market near a one Harbour Ferry stop that you can buy some dead fish to feed the seals.

Rent a Kayak Victoria + Kayak Lessons
Experienced kayakers or someone totally new to kayaking adventures will find Victoria has  some of the best waterfronts and sea life to explore. 
These companies provide Kayak rentals, tours and training -

1)Victoria Kayak - near harbour air  ( float plane ) dock
2) Ocean, River Adventures, Kelp Reef Adventures
3) Victoria Waterfront Tours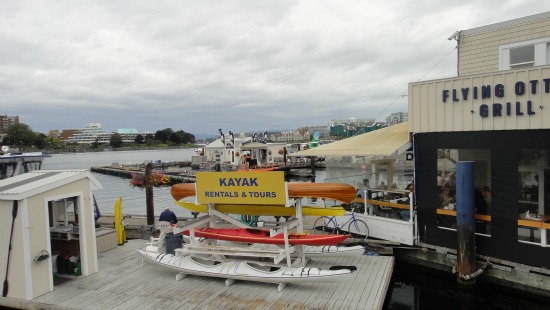 Easy to rent a kayak from Inner Harbour - Victoria BC tour
Add whale watching to your trip - One a must do activity in Victoria.  You will be going much further trip into the ocean.  You will be traveling on high speed zodiac boats or on more comfortable bigger vessels to find Victoria  BC resident whales that spend much of their time in Victoria waters.

There are companies that offer whale watching and nature tours.  

Getting ready for a whale - watching (Zodiac Boat)
Add a Ferry route to come here or leave from Victoria, BC is a another way to see the sea around Victoria.  You can combine Ferry and a Seaplane to get in and get out Victoria easily.

See Victoria from the Sky ...

There is a unique way to enjoy Victoria from the sky. It is by taking a seaplane tour.  This is not a journey that you have taken on a Jetliner.  Victoria has a seaplane base right in downtown or with Pat bay air that offers competitive pricing. 
Enjoy a scenic flight at a low altitude over the Victoria BC city and the sea.

Click here to read more about Flightseeing adventures and my money and time saving idea for a Victoria BC tours from the sky ...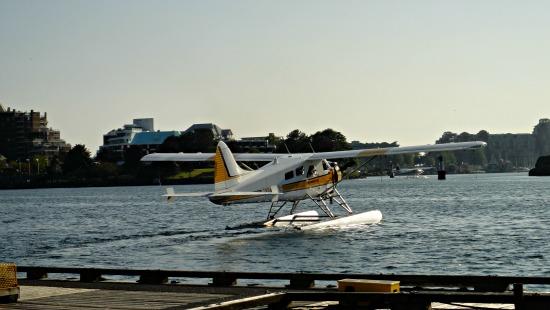 Flightseeing over Victoria
Victoria Bc
› [Victoria BC tours]