Victoria Airport  (YYJ)
You get that "Vacation feeling" as soon as you land here 

Victoria Airport is small quiet and calm.
Here at YYJ you don't feel - busy! busy! hurry! hurry! And all that "Airport Stress"
However, you see ... The airport handles more than 120 flights per day throughout North America and 1.5 million passengers per year.
 There are connecting flights to many Canadian and US destinations.  There is  PatbayAir located close proximity to YYJ Provide year around convenient aircraft charting service to many destinations


With all this traffic YYJ still maintain its uniqueness ... Quiet and Calm!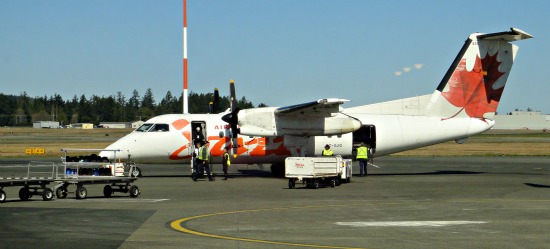 Jazz (Air Canada) Flight at YYJ

Everything is Within Your Reach ...
---
The terminal is small and convenient. There are no running people from one terminal to the other.
No fast moving shuttle carts beeping right behind - Move Please ..! Shuttle's coming ..! (At you) OOOOPS!
YYJ is small, yet equipped with very modern amenities like free WI-Fi (wireless internet access), quality dining service, shopping, currency exchange etc.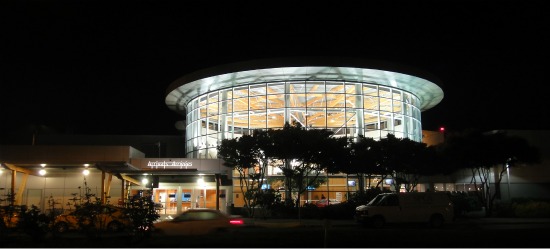 Victoria Airport at Night


You are Landing in Sidney - Beautiful Saanich Peninsula
---
However, remember Airport is not in downtown. You are not in Victoria yet. You are landing in a town call Sidney. It is a 30 minute drive to Downtown Victoria. 
You may need a few tips to find out the best way to get to Victoria downtown. You can take Public Transport, a Shuttle Bus, a Taxi or Rent your Car right from the Airport.
Relax ... You will be in Victoria Downtown Soon.
---
Victoria Airport (YYJ) is a great way to start your vacation or end. This charming little Airport gives a very good impression of Vancouver Island and Victoria to its visitors.
Consider your vacation start right the moment you land. You know why? .... Because there are things to see in the Airport too.
Do you like history and art? There is a nice display of arts and crafts by local artists in the airport building.
Hang out in the Airport a little while to see what's in there .... Take some photos
If you look, landscaping front of the terminal building offer unique welcome to visitors entering The Garden city – Victoria.
You Have 4 Choices to Reach Downtown Victoria ...
---
There is Akal Airporter Shuttle Bus service which takes you to almost all Downtown hotels.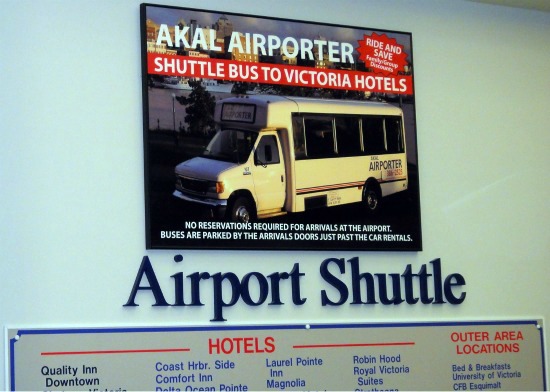 Akal Airporter Counter Near the Domestic Baggage Pickup Area
If you want to take a taxi, Yellow Cab of Victoria provides Victoria Airport Taxi service. No Waiting!

Yellow Cab Taxi Lined Up to Pick Up Passengers
There are four Rental Car companies at the arrivals desk to rent cars.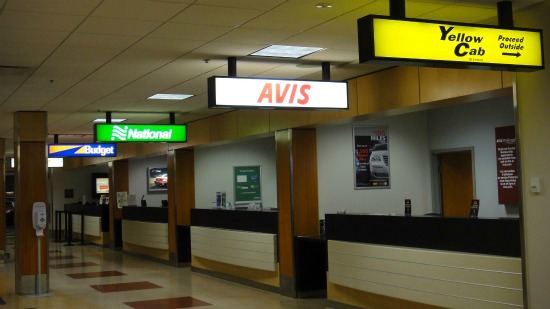 Car Rental Kiosks
Public Transport
---
Most economical option is public transport bus, but you have to take 2 buses from the Airport to Downtown Victoria. I noticed BC Transit Guide even mention Akal Airporter as an alternative to public transit from Victoria Airport to Downtown.
Public buses may have problems with large luggage. Therefore, I recommend Akal Airporter over public transport to take you to downtown.
However, remember BC Transit in Victoria provides a really good service in the downtown area and we do use BC Transit bus line very often to travel in Victoria.
There are are Double Decker buses running in downtown. Our daughter loves traveling on the upper deck front seat... Yes its a nice elevated different view of the town from the top of the deck. Call their info line 250.382.6161
Return from Victoria Airport to Flights to Victoria

Return to Victoria BC Vacation Home Page