Flights To Victoria BC - Getting Here Is A Breeze!
What are the quickest flights to Victoria BC?  What is the easiest way?  So then, What is the cheapest way to Victoria?  These are the questions we hear from our friends, family visiting us every year.
If you are flying from Europe - fastest, best and the easiest way is directly flying to Vancouver International Airport (YVR).
From Europe traveling via USA could be cheaper but with more travel time due to US immigration and customs delays.
For Europeans, Vancouver - Canada is the best access point we recommend to Victoria.
What if you are flying to Victoria from USA? There are frequent direct flights to Victoria BC from Seattle.
Other direct connecting locations from USA to Victoria are San Francisco - California, Phoenix - Arizona and Las Vegas.
United Air Lines, Horizon Air, Alaska Air Lines are main USA airlines that fly to Victoria.
From USA, once we took a direct flight from San Francisco, California to here - A small jet (Photo) operated by United Air flew us here directly in 2 hours.
Direct Flights to Victoria from San Francisco


Flying from Asia, Japan, Hong Kong, Singapore? My suggestion is Vancouver would be your best location to change flights to Victoria BC.
If you are a Canadian traveler you can take Air Canada or WestJet from Canadian cities like Vancouver, Toronto, Calgary, and Edmonton directly to Victoria.
When you are in Vancouver or Seattle you will need 1 flight or 1 ferry to Vancouver Island ...... no hassle! Easy, done.
From Vancouver Airport you can take Pacific Coach Lines bus that travels with you into the ferry. These buses are in the ferry sailing with you and then driving, conveniently to Victoria downtown.
However, you see ... Our experiences show the fastest way to Victoria is flying directly to Downtown.  Yes! There is a way to fly directly to downtown Victoria.


Preferred Ways Of Traveling To Victoria BC By Air
1) You Can Fly in to Victoria BC International Airport (YYJ) then a 30 minute drive to Downtown Victoria.
We have chosen this route when we are flying to Victoria BC many times.  YYJ is the major air hub in the Vancouver Island that most of the air travelers landing in.  Still, you don't see the hustle and bustle of other big airports.
We like the small airport atmosphere and the beautiful presentation of arts and crafts in the airport building. We have taken direct flights from Vancouver, Toronto, Calgary, Edmonton, Kelowna to Victoria BC.
Flight to Victoria - Arrivals

If you are flying to Victoria International Airport, you are landing at Sidney.  It's a small beautiful coastal town very close to Victoria BC.
From Sidney you can take the Victoria Airport Shuttle , Airport Taxi, Rental car or Public Transit to reach downtown Victoria.
How About Flying Directly To Downtown Victoria?
Yes! It really is possible.  Sometimes could be cheaper too.
2) Take a Seaplane to Downtown Victoria Inner Harbor (YWH)
Direct Flights to Victoria Downtown - Harbour Air Terminal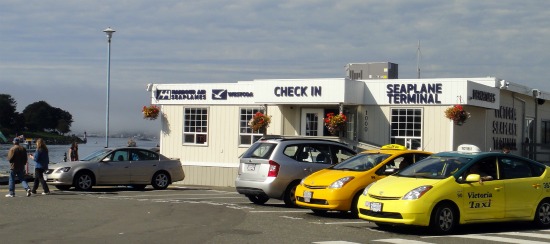 This is the quickest way to downtown Victoria from Vancouver or Seattle.
This is a good way to add Flightseeing Victoria - Another popular tourist attraction to your vacation.
How Do I Find A Seaplane Terminal In Vancouver?
There are 2 locations to take a seaplane from Vancouver area.
One is in the Harbour Air terminal at Richmond International Airport (YVR).  From Airport they shuttle you free to this Harbour Air terminal.
The other location is in downtown Vancouver harbor (Vancouver coal harbor CXH).
Our cousin flew Harbour Air from Vancouver to Victoria downtown.
He had only one day free on his busy business trip to Vancouver.  Searching Internet he bought a super saver (webfare) ticket from Harbour Air.
This one day trip cost him less than taking his car on the ferry and coming to see us.  Think about the time he saved cutting down almost 5 hour journey to 30 minutes.  Now we recommend this option to all our friends who coming to see us on a short day trip.


The harbor Air seaplane service offers a shortcut and a scenic route as well.  SuperSaver web fares between lower mainland and Vancouver Island are great bargains.  These money saving deals could be cheaper and quicker than any other ways of getting to Victoria BC downtown from Vancouver.
You will be in your downtown hotel within minutes of landing.  You are close to all sightseeing, whale watching and in the middle of all downtown attractions.
Seaplane Flights to Victoria Downtown

Can I Take A Seaplane From Seattle to Victoria Downtown?

Kenmore Air seaplanes fly from Seattle's Lake Union (LKE) and land right here in Downtown Victoria BC.  Kenmore Air operates a complimentary shuttle service from Seattle-Tacoma International Airport ("Sea-Tac") to the seaplane terminal at Lake Union (LKE) Washington, USA.
Photo From: flickr.com
Flights to Victoria BC "Kenmore Air" Seattle to Victoria Downtown Flights(Photo by dizfunkshinal)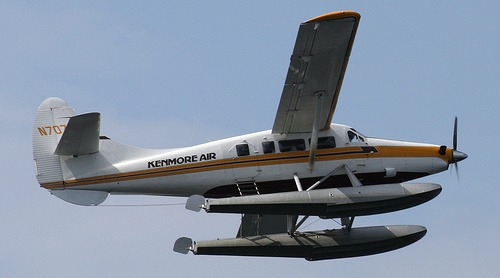 One important thing that all seaplane travelers should do is to check luggage allowance with the airline.  This allowance is often less than international and domestic airlines.  We see luggage allowance change depend on the Air route it travels too.
3) Take Helicopter Flights to Victoria
Scheduled Helijet (Helicopter) flight from Downtown Vancouver to Downtown Victoria BC or arrange your scenic flight with BC Mountain helicopter service (BMCH).
Vancouver to Victoria Downtown - Helijet Flights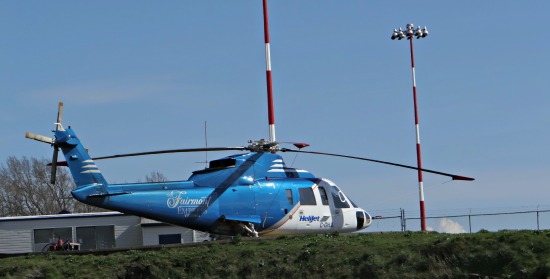 Tickets are pricier.  Consider if you or your children wanting to try a helicopter tour.
Scenic helicopter tour from Vancouver to Victoria will be a trip to remember.