Ferry to Victoria, BC... What's the Best Route?
Find Out Here...

Ferry to Victoria BC is a Scenic Tour.  We ride USA and Canadian ferries to get in and out of our home town Victoria BC. Our experiences will sure to help you get ready for your Victoria BC vacation.
To Find Out Your Best Route, Let's Focus on Your Situation and Travel Plan

Are you just a foot passenger?
Are you bringing your vehicle?
Are you sailing from USA or Canada?
There are 4 ferry systems connecting mainland Canada and USA to Victoria BC (Victoria downtown or close to Downtown).
From Canada
1) BC Ferries Vancouver (Tsawwassen) to Victoria BC (Swartz Bay) – Vehicle and Passenger ferry
From USA
2) Victoria Clipper (Seattle - Downtown  to Victoria Downtown) - Passenger only high speed ferry
3) Black Ball Ferry " MV Coho Ferry"  (Port Angeles, WA to Victoria BC Downtown) - Vehicle and Passenger ferry
4) Anacortes, WA to Victoria BC (Sidney) -  Vehicle and Passenger ferry operated by Washington State Ferries (WSDOT)

Ferry to Victoria BC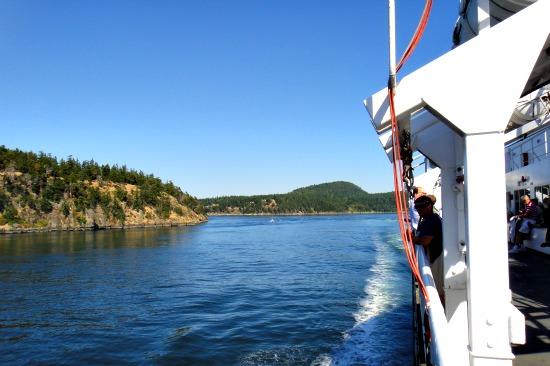 Are you a foot passenger?
Passengers From Vancouver Downtown or  Vancouver/Richmond International Airport (YVR)
Can you take a bus from Vancouver Downtown or YVR to Victoria Downtown?
Yes,  This bus will be sailing with you on the ferry and taking you safely to  Downtown Victoria from the ferry terminal ( 31km from Swartz Bay Victoria ferry terminal to Downtown Victoria ).


We buy Pacific Coach tickets and enter the bus from Downtown Vancouver or YVR with all our luggage or shopping goods.  Pacific Coach bus goes into the ferry and travels with us and safely drops us in downtown Victoria.
How to buy Pacific Coach tickets? And more info...

Take Pacific Coach & Ferry to Victoria BC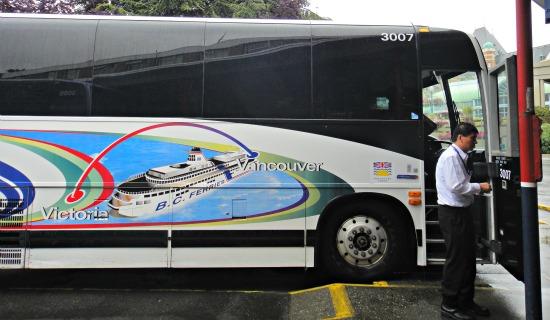 2) USA Foot passengers can take a ferry to Victoria BC from Seattle, WA
Victoria Clipper is a fast passenger ferry that takes you from Seattle Downtown  to Victoria downtown.
How to buy Clipper tickets? And more info...

Ferry to Victoria BC from Seattle-Victoria Clipper

Some tourist combines Clipper ticket one way with Kenmore Air the other way.  Kenmore Air is the fastest connection from Seattle to Victoria and the only schedule float plane service from Seattle to downtown Victoria.

3) All foot passengers have an option to take public transportation to ferry terminals. Have  friends or family to drop you off and pick you up at any of the vehicle ferry terminals.  Taxi is an expensive choice but available at the ferry to Victoria BC terminals.

Are You Driving a Vehicle to Victoria?

If you are driving and need to bring a car to the Island there are 3 vehicle Ferry systems available to Victoria.  You can get your car straight off to Victoria (or very close to Victoria... ) From Canada and USA.

1) BC Ferries from Vancouver to Victoria (Tsawwassen – Swartz Bay ferries)

This ferry system has most sailings per day To Victoria.

BC Ferries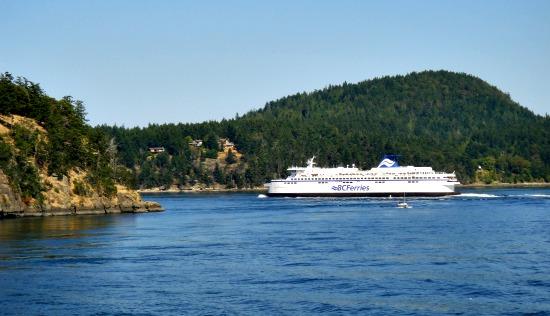 We always tell this to our friends taking this ferry route on  their way for vacation.  "Be Safe there is no  hurry or rush to catch a ferry"  BC ferry sailings are frequent.
US Travelers  Visiting Victoria ( on their Vehicles) have  two more choices -There are 2 US vehicle ferry systems serving Victoria.
2) MV Coho - A ferry operated by black ball ferry line from Port Angeles USA to Victoria Downtown.  There are 2 to 3 schedule sailings a day depending on the season.
3) Washington State Ferries ( WSDOT Ferries ) from Anacortes WA to Sidney BC ( Sidney BC is a beautiful little coastal town just 30 minutes from Victoria downtown). This is a 3 hour ferry ride and a very scenic route.
*  WSDOT ferry service is not available from first or second week of January to beginning of April. 
*  During summer months there are 2 sailings a day.  The rest of the time it's down to 1 sailing a day.

My Suggestions for MV Coho and Anacortes Ferry Passengers
Don't need to add traveling stress to your Victoria vacation.
Do you have a long drive from home to USA ferry terminals located in Port Angels or Anacortes?  If that's the case, I have 2 suggestions.
1) My First suggestion is to take BC ferry route -  Vancouver ( Tsawwassen ) to Victoria BC ( Swartz Bay) to come here and take  Anacortes  or MV Coho ferry for your return trip to the USA.
Once on our way from Seattle, we planned to take MV Coho to Victoria. As you know with family and children, frequent stops … we started running behind minute by minute.  In the end we had to change our route to Vancouver ( Tsawwassen ) to take BC ferries (because there are more frequent sailings) to Victoria.
There's no driving pressure if you are driving to Vancouver and taking BC ferries to Victoria. There are many sailings each day.  If we are late for a ferry (or the ferry is full) we just have to wait 1 or 2 hours for the next ferry.

2) The other suggestion perhaps the more relaxing is driving to Port Angels or Anacortes first. Spend a night and explore the towns of Port Angeles or  Anacortes and then taking MV coho or Anacortes ferry to Victoria next day.

All ferry rides are scenic tours itself.  Make sure to keep your camera handy to take lots of scenic pictures …


Ferry to Victoria BC Tour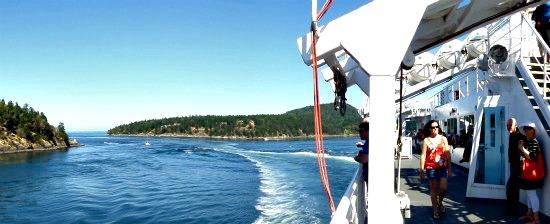 Victoria Bc
› [Ferries to Victoria BC]