Victoria Restaurants - Flying Otter Grill

A Unique Experience, Mouth Watering Food, Casual Atmosphere and Soooooo……………… Close to Water

Victoria Restaurants - Waterfront Dining

Dockside Dining and Incredible View
---
It was my wife's turn to pick a restaurant this time.  Her choice  caught both me and my daughter by a bit of a surprise  -  " Let's go to the Flying Otter's Grill and have a meal by the sea".
The date is Feb 11th.  Victoria is the warmest spot in Canada during winter.  Very often we have cherry blossoms start blooming at this time of the year.
Still, it's February Though....?

The seaside still could get quite chilly even here during the month of February.
Chammi heard from her friend that they have a warm dockside patio and superb food.

The Flying Otter Grill is one of the floating Victoria restaurants in the inner harbor.
There are many seaside Victoria restaurants. This is the first time we are heading to Flying Otter Grill.

And we were taking out  my mom and dad out to dinner too.  My dad does not like to sit in a cold spot or eat any cold food…  

Are we going to have a good dinner this time……………?

Location and Parking
---
The restaurant is next to Harbour Air / Kenmore Air terminal.  So there is ample parking right in front of the restaurant.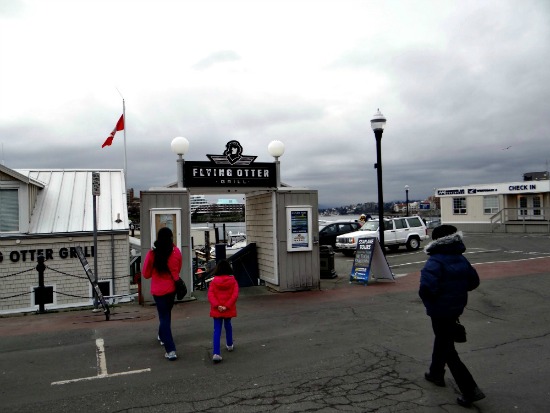 Entrance to Flying Otter Grill
Oh! Don't forget  It's paid parking so feed the parking meter before your feast.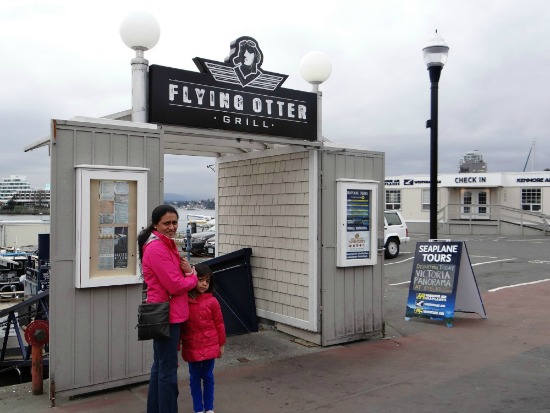 Walking Path Down to the Sea Level Starts Here - No Stairs
Restaurant entrance is at the sea level, there is a nice walking path down to the dock  "no stairs".  So all, young and old  folks can get in there easily.
This is a first come, first serve restaurant in Victoria unless you are visiting with 10  or more. So reservations not needed.

Friendly server greeted us warmly at the entrance. 
My wife said we need patio seating with a nice view.
Atmosphere and View

---
The waitress seated us and gave menus,
We were very excited because the waitress seated us in a place where we exactly wanted to sit.

Wow!  I was quite impressed indeed.
They have covered patio right by the water. Nice view of the ocean.  I can see seaplanes moving,  whale watching boats and all the activity in the harbor.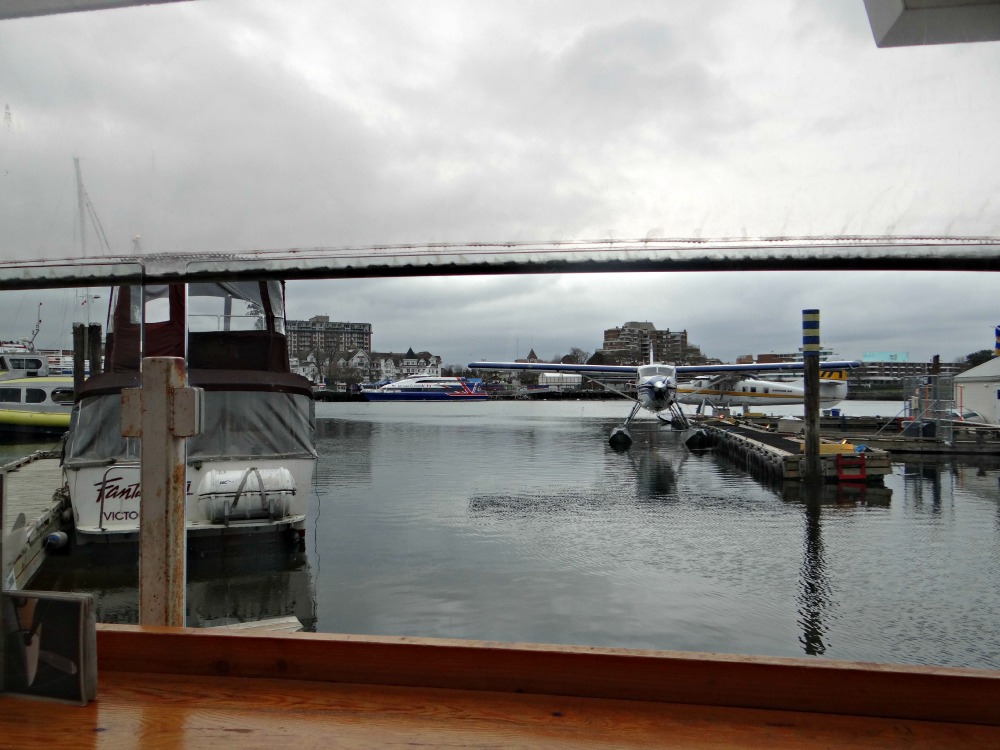 Scenic View of the Victoria Harbor, Sea Planes, Boats from Our Table
There are red hot ceiling heaters.  That's what kept the patio quite so warm.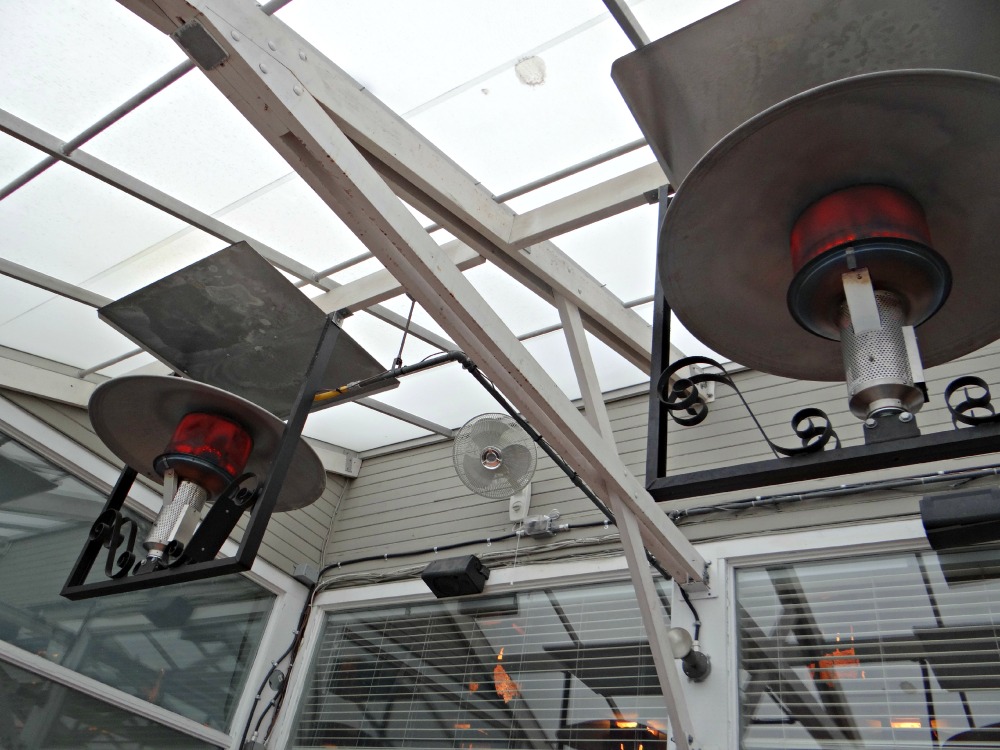 Ceiling Heaters Keeping the Patio Quite Warm
I felt like this is one of the best Victoria Restaurants for taking pictures of seaplanes and the harbor while still dining.

My camera  was busy and eager to  capture lovely memories. I totally forgot  why we are here until Chammi reminded me.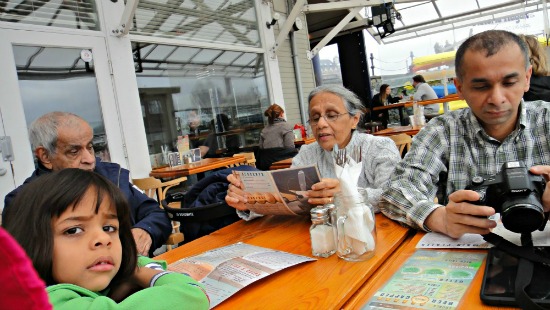 Mom Dad Lapaly and Me - Chammi's Photography
Food & Drinks
---
We ordered our drinks.  Dad and I went for local beer. Chammi likes her margarita. Orange juice for mom and Lapaly.
We sipped on our drinks.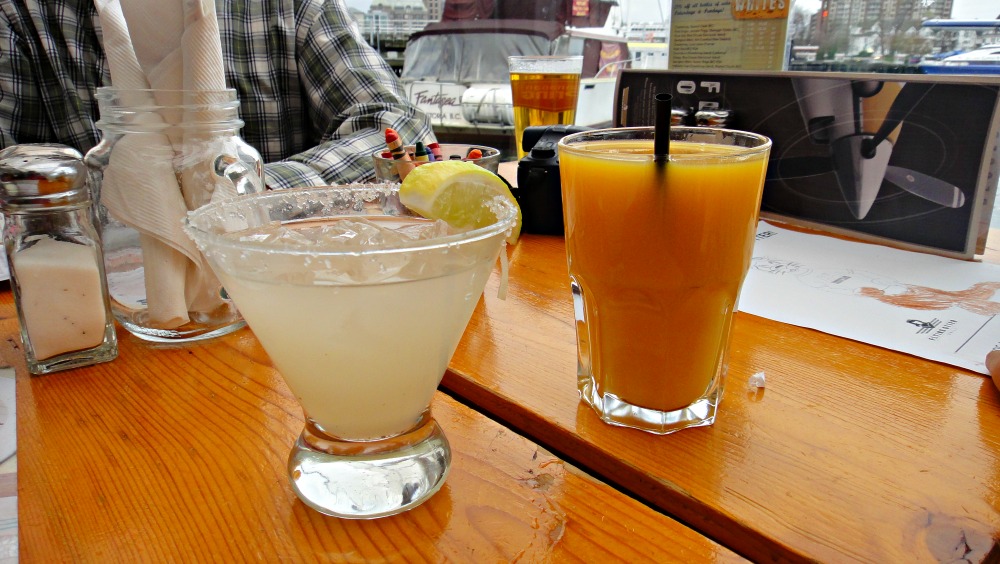 Drinks - Margarita and Orange Juice on the Table
The Menu

---
Everyone wanted something different to eat….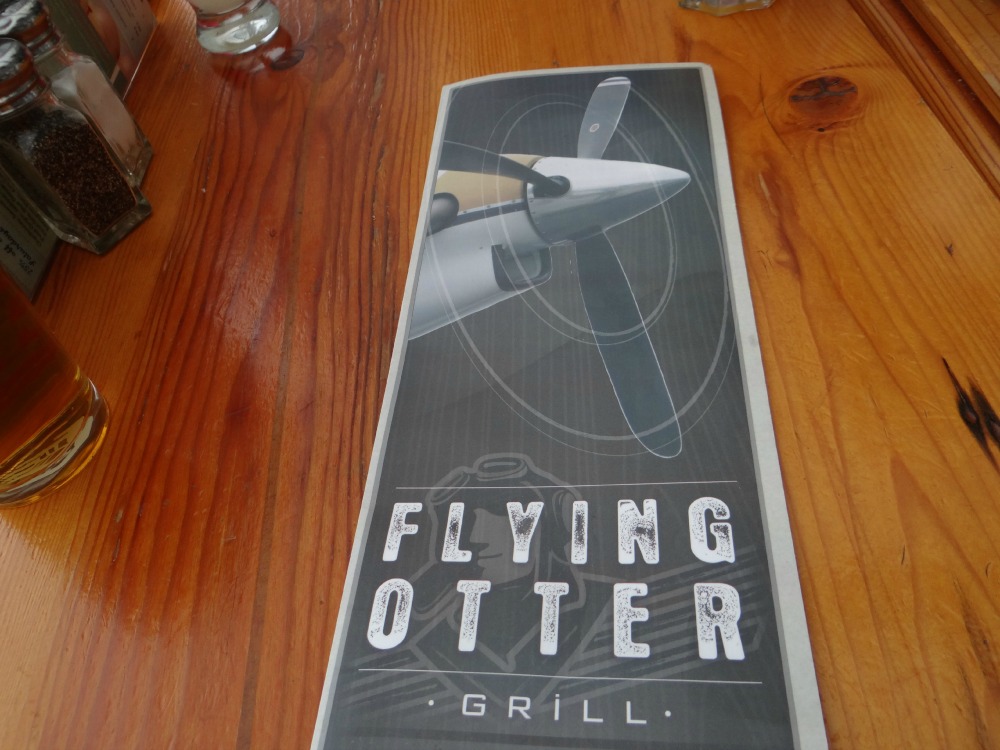 Menu
Kids and Family Friendly
---
Lapaly wanted a Kid's meal – Yes, They do have a nice kid's menu. She got crayons and coloring papers too.
A child friendly restaurant. Another plus when you are journeying with kids. 
Lapaly settled down for a kid meal item - Linguine with Marinara Sauce with Chicken.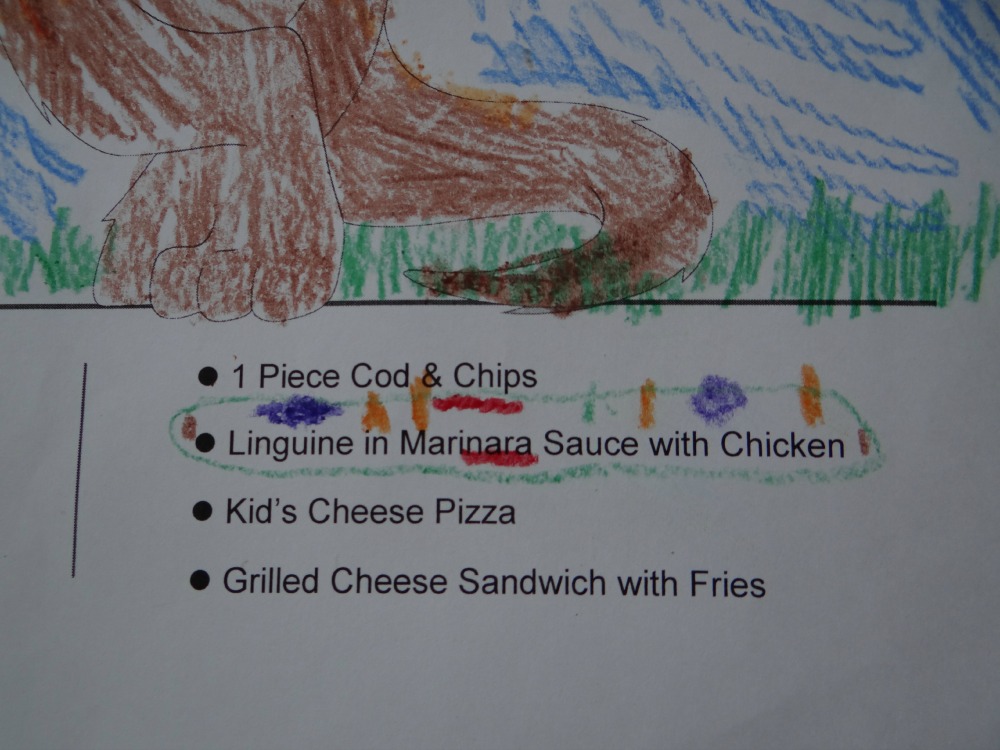 Menu with a Coloring Sheet for Lapaly
Chammi picked a delicious mango salad with Chicken.
I shared half of my order – Salmon Wellington with Chammi's salad.
Salmon Wellington is a wild BC salmon fillet wrapped in puff pastry and topped with a lemon – leek sauce, mash potatoes and seasonal vegetables
The salad menu included -  Caesar Salad, Tossed Salad, Spinach Salad, Mango Salad with Chicken or Prawns, Thai Salad with Chicken or Prawns, Sesame Crusted Tuna Salad, Warm Goat Cheese Salad

Dad wanted grilled halibut fish, fresh cut fries and the Beer. Their Fish and Chips menu included beer battered fish and chips, fresh cut fries and tartar sauce with Halibut, Cod or Prawns.

Mom tried Blackened wild BC Salmon with Quinoa Salad.
Main Plates included – Chef Leminh's Linguine, Blackened wild BC Salmon with quinoa salad, Salmon Wellington, BBQ Baby Back Ribs, New York Striploin, Seafood Paella
Note: Before I forget if you are a Harbor Air/Kenmore Air passenger, show your boarding pass/pager to the server to save 20%  off of your food (except alcoholic beverages).


Restaurant Experience

---
Our meals arrived.
Oh… lovely they are parts of culinary arts pleasing to our optics. I wanted to take more pictures so I can verify if I see them in my dreams.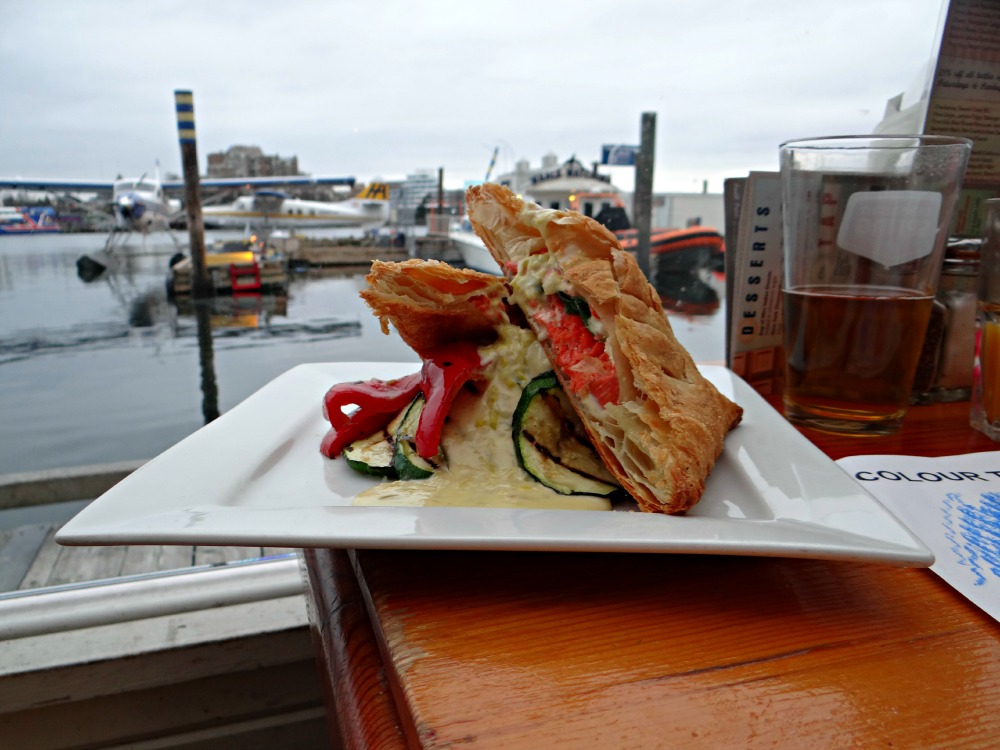 Salmon Wellington
Everybody quiet over the dinner for a while.  We just  forgot to talk or perhaps maybe just scared that the flavor might fly out if we open our mouths too often.
Chammi's salad tasted really good I can tell you that because I ate almost half of it in exchange of half of my  super delicious main plate - Salmon Wellington.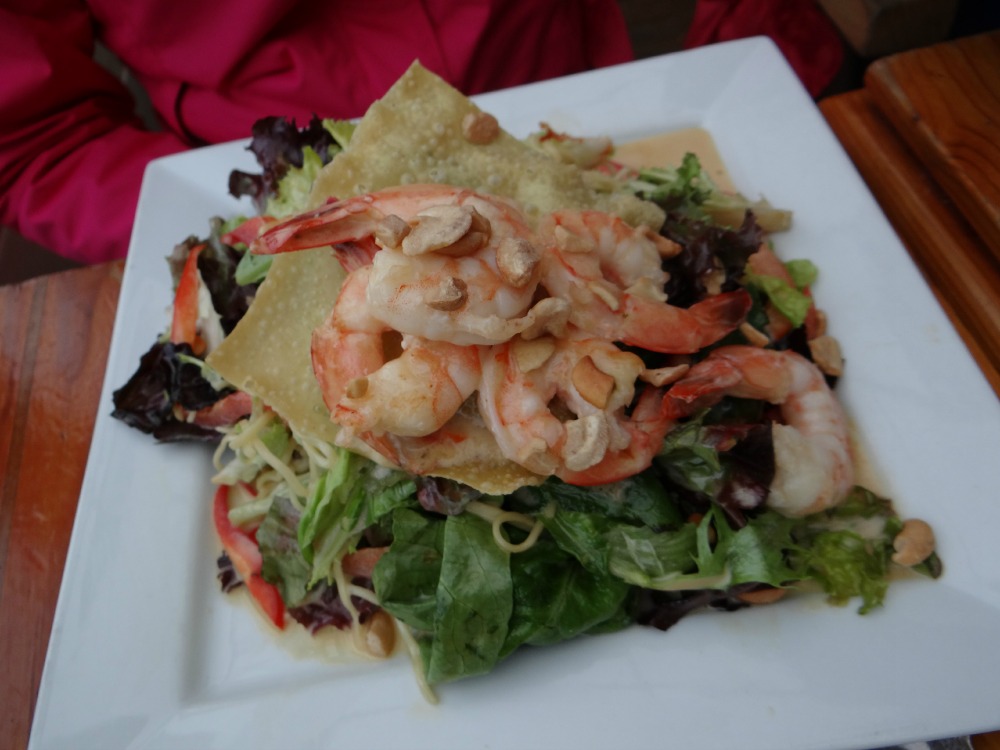 Salad with Mango Vinaigrette and Chicken
Lapaly finished her coloring project as well as her Linguine in Marinara Sauce with Chicken meal.  Empty plate (that rarely happens)  for Lapaly means Food is Good. We all know that……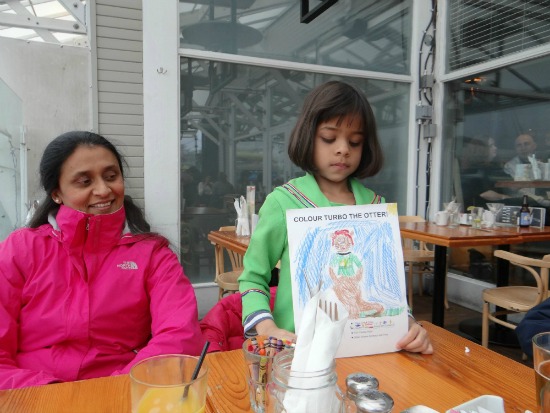 Lapaly Finished the Painting
Mom said blackened salmon with quinoa dish is superb.
It's a meal that looks fabulous on the plate too.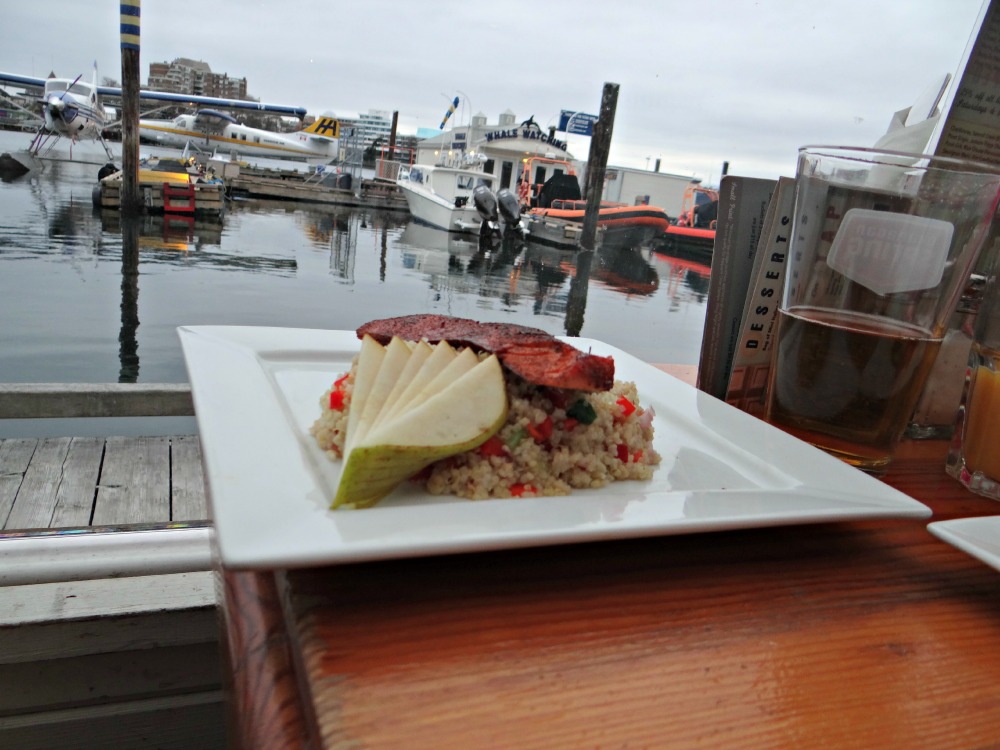 Quinoa Salad with Blackened Wild BC Salmon
My dad sat in the corner near to an overhead heater and finished his hot grilled halibut with fries.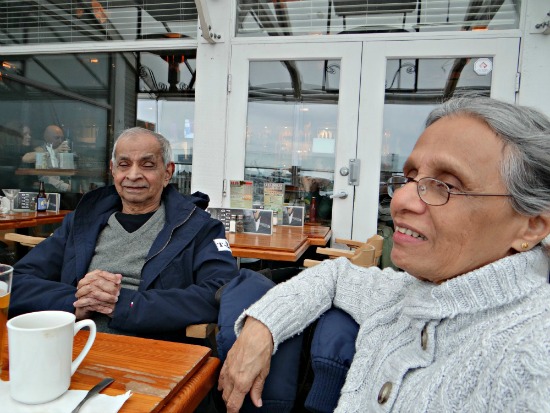 Mom and Dad
Bar

---
Along the way out bartender with a genuine smile chat with us for a bit. 
I will stop here with my dad next time before meals.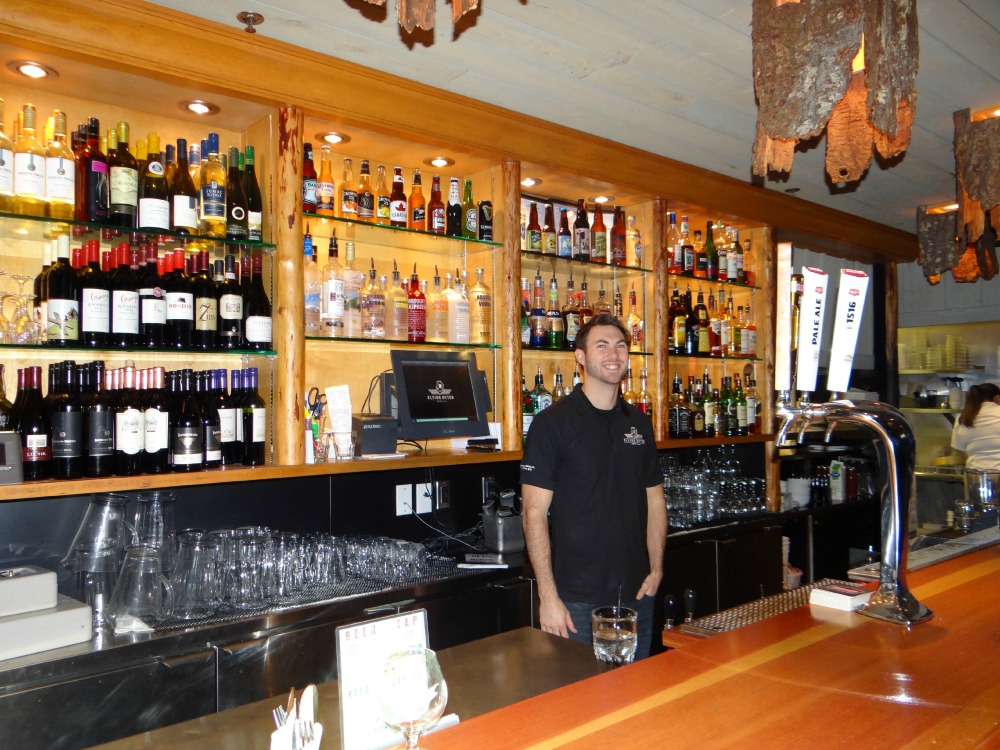 The Bar
The evening was coming to a close.

The Flying Otter Grill is an absolutely nice place to enjoy a meal. This restaurant sets out our vote as one of the best Victoria restaurants for Food and Location.

Will I come back here again?  Sure, I really want to visit here again to have a summertime by the sea dining experience.
I will be keeping you updated.

Victoria BC

›
Victoria BC Restaurants
› [Flying Otter Grill]