" M.V Coho Ferry " - (Black Ball Ferry Line)

The black Ball ferry line operates" MV Coho" (Coho Ferry). This is one of the most convenient and famous ferry lines between USA and Canada.  This Big boat - "M.V  Coho"  is named after famous Coho salmon found in this part of  Canada and USA 
A Very Brief History
- Designed by Philip F. Spaulding & Associates of Seattle.
- Her keel was laid Jan 12, 1959 at the Puget Sound Bridge & Dry Dock in Seattle.
- The Coho made its first sailing to Victoria Harbour on Dec 29, 1959

So, this is an old but a famous ship with some history built into it.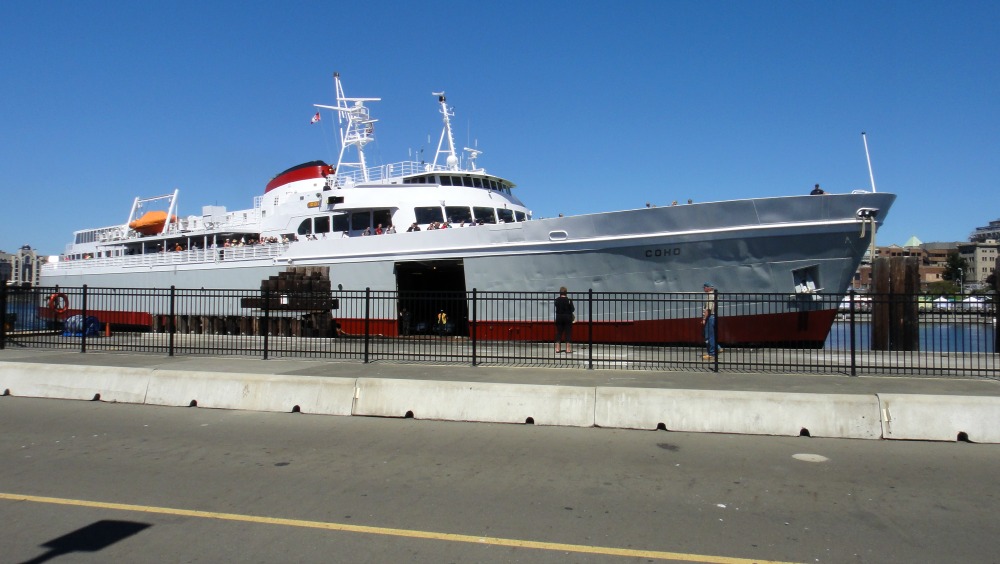 Coho Ferry Reaching Victoria BC Inner Harbour Terminal
Travel the Big Boat - Victoria BC to Port Angels USA 

M. V Coho is a " Vehicle and Passenger Ferry"  that sails between two cities - Victoria, BC downtown and  Port Angeles in Washington State.
It has a capacity for 1000 passengers and 115 vehicles so it's not a small boat.  It's like a road that connects two cities  -  Victoria BC Canada and Port Angeles Washington USA.
They have four sailings from both sides during the summer, but less frequent during the rest of the year.  The ferry crossing takes 90 minutes.
When travelling between two cities most tourists bring their vehicles, so they get to be in the comfort of their own vehicles. Nevertheless, those who are visiting Victora find  that we have  an excellent public and private transportation system as well.

The  Black Ball ferry terminal in Victoria is located right in downtown (walking distance to Parliament building and Empress Hotel).  This is such a convenient location for all its travelers.  The ferry terminal is located in one corner of the downtown.  All ferry passengers can easily walk to any location in downtown Victoria such as restaurants, buses etc.  Within minutes.
Our First Trip on "M.V Coho" – Victoria to Port Angeles

Our home town is Victoria.  On a beautiful sunny Saturday, during the summer we sailed Coho ferry to USA.  We have taken BC Ferries to Vancouver and drove  to Seattle several times.  It was a quick decision that we decided to change our routine route  to Seattle and try the Coho ferry route via Port Angeles to Seattle. We thought why not try this scenic ferry route from downtown Victoria to Port Angels USA and  then drive to Seattle from there.
We were Drive-on Passengers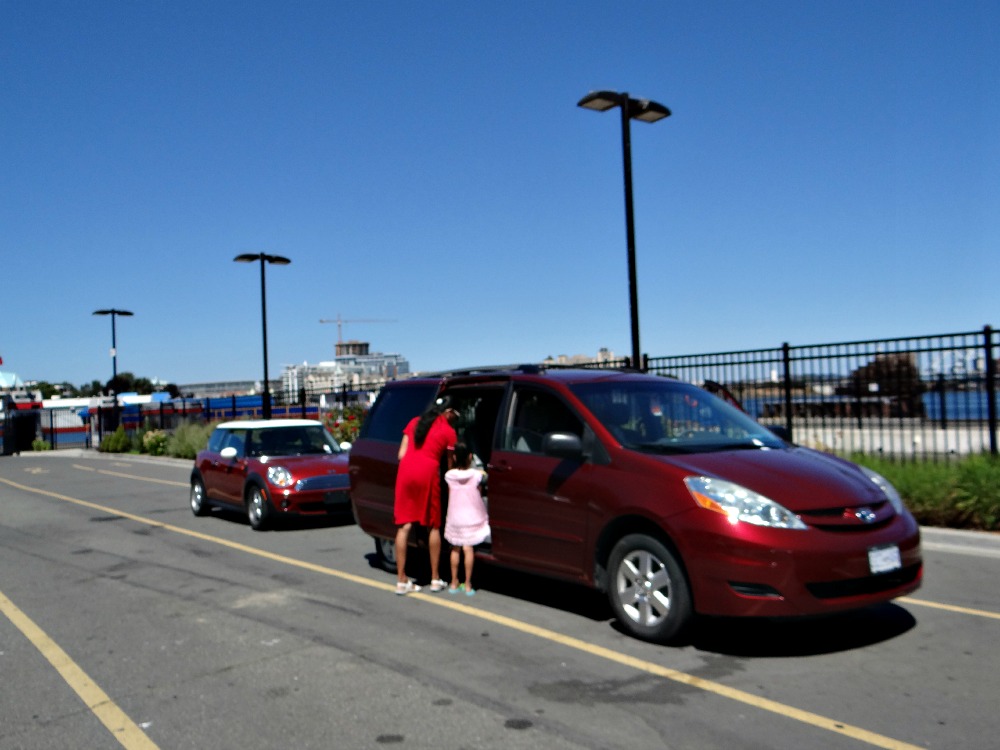 Parked in the Lineup to Coho Ferry
We knew specially in the  summer time ferries are busy and fill up so quickly. Saturday morning we called the ferry line to reserve a spot. It's too bad, we couldn't buy tickets online or over the phone as all the reservation spots were sold out.  However, they said there are always some spots available for non reserved vehicles and encouraged us to give it a try.
  According to the ferry policy  online reservations close 12 hours before the departure and  phone reservations are available up to one hour prior to sailing (if spaces are available).  They also mentioned to us that sometimes  online reservation spots are over days before the sailing.
Remember, that there is a lineup for first come, first serve basis spots too.  First come, first serve travelers have to park their vehicles in the unreserved lineup at least couple of hours ahead.
So what did we do?  Quick, Quick and Hurried up….,  grabbed our luggage and rode to the terminal. Hoping to see if we are lucky enough for one of those   "first come first serve spots".
We were there at 12.30pm  for the ferry sailing at 3.00pm.  When we reach the terminal, for our disappointment, we found out first come first serve lane is also full.  Yet, the friendly staff told us that they accept a few more cars for the standby lane too.  So we were glad, at least there was a possibility.  You see... Here It's bad timing and we did everything late on a busy Saturday.

Are You a Walk-On Passenger or a Bicycle Passenger to the Ferry?
Victoria and Port Angeles, both Coho ferry terminals are right in downtowns. This makes walking and biking affordable and easy. Bicycles are loaded with walk-on passengers. So no need to reserve a spot.

Travelling Tips 1

Please remember even if you have a reservation, you should arrive at  Victoria terminal 90 minutes prior to departure to go through Immigration clearance by US Customs. From Port Angels terminal at least 60 minutes prior to departure.  Please make sure you have all your travel documents ready to avoid any disappointments and delays.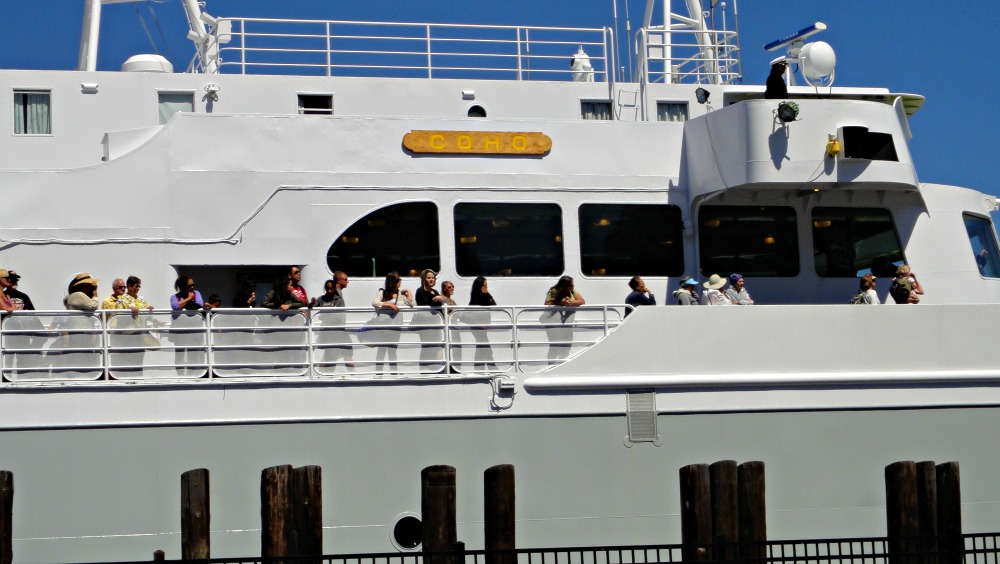 Coho Ferry Docking - Victoria BC
Our Trip cont....
Around 1.30pm Ferry staff started walking along the lineup, checking our passports. They were very nice and helpful.  Boarding started at 2.30pm.  Finally, when we made it to the ferry.  We parked our vehicle right at the ferry entrance door because  our vehicle and two other vehicles were last to get in.

Travelling Tips 2
If you decide to travel first come, first serve basis, you can still call to find out how soon you need to arrive to secure a spot at non-reserved vehicle space.  You can drop your vehicle and hang around the city until its time to issue tickets.  
Victoria downtown is a vibrant place. During warmer months, there's lots to see in the city. While we were waiting for the ferry,  we saw "Hippo Tours" (Bus or Boat or BUSBOAT however you like to call it)  a cute amphibious vehicle sailing in the  water.  We watched  "Prince of Wales"  whale watching boats coming and going.


Travelling Tips 3
When you reach the terminal and  find out that all non reserved spots are gone and you need to stay on the Standby lane (this is what happened to us).  This means your spot is not guaranteed till the last moment. And so I recommend holding an alternate plan B or C available to you.

Plan B and C Options
---
You can take the Anacortes Ferry to Anacortes, USA or take BC Ferries to Vancouver and then drive to USA.
However, If you really like to sail Coho ferry, my opinion is to buy tickets online or over the phone to reserve a spot for your vehicle.

Please note - Coho Ferry takes an annual maintenance break. Usually mid January  (19th.. 20th) to first week of February  4th...5th).

Inside the Ferry
Travelling Coho is all new experience for three of us.  We explored, walked around the deck and inside.

Cafeteria
Feeling hungry, next we entered the ship's cafeteria. It is a nice place to sit down and take the lunch, dinner or a snack.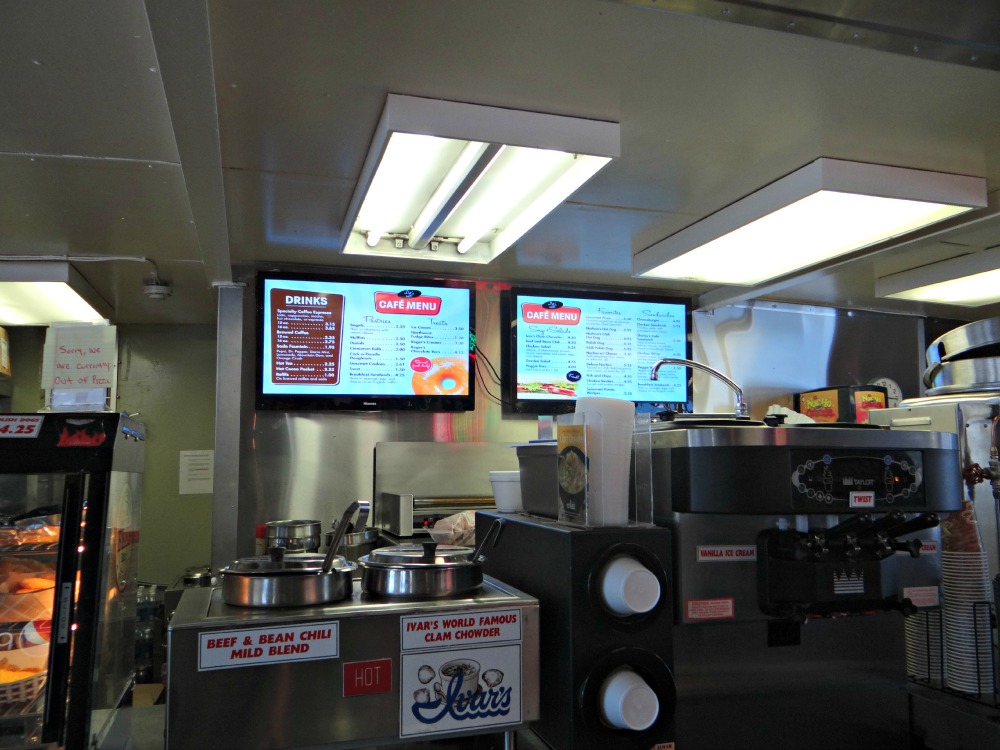 Coho Ferry Cafeteria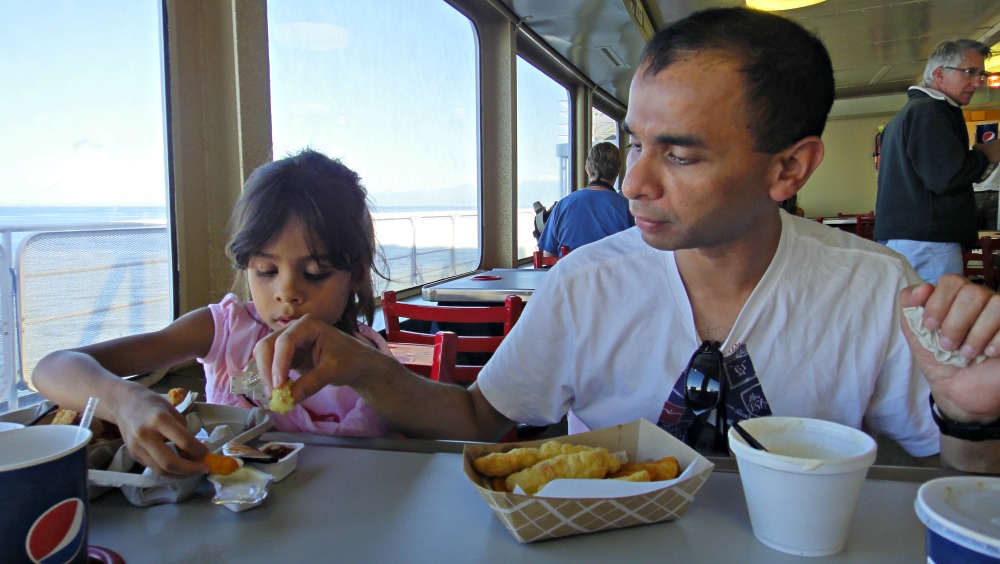 Lunch Time - We had an Absolutely Delicious Clam Chowder and a Fish and Chips Meal
Prices are affordable too. Hot Hot chili and their  famous clam chowder look mouth watering. We didn't buy chili because our daughter Lapaly doesn't like to eat chili.  We ordered clam chowder, Chicken strips, fish and chips…. Yummy yummy stuff....  We were totally happy and enjoyed our meals.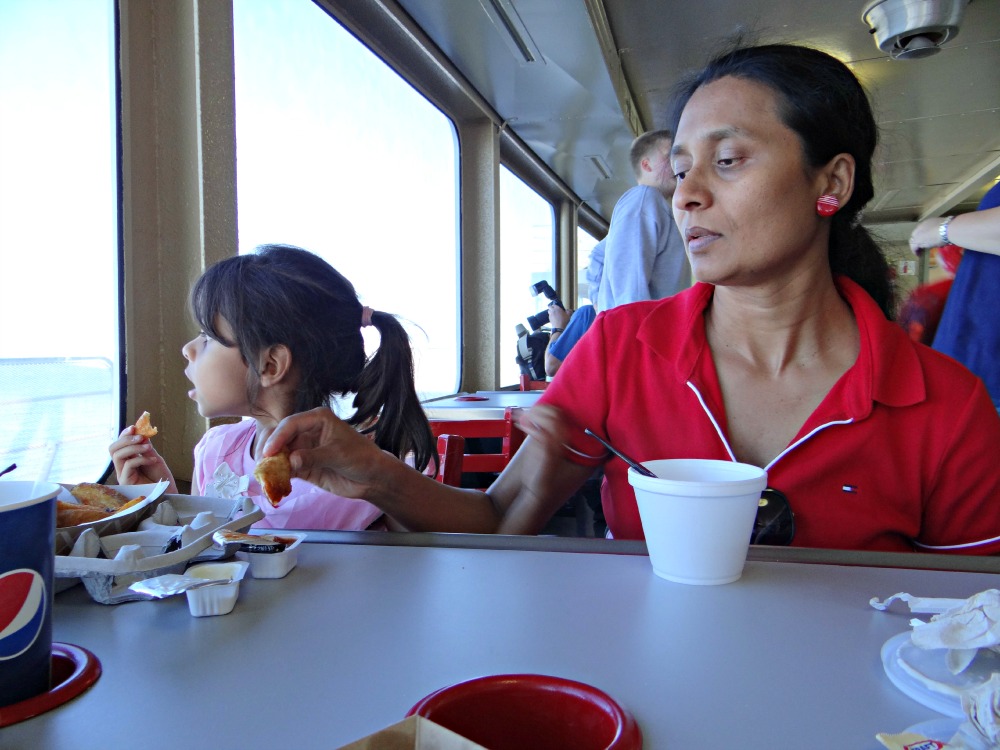 Delicious Food and Scenic View
Duty Free & Gift Shops
Coho has a duty free shop that sells liquor.  There is also a gift shop with nice goodies to make your gift ideas memorable or just something to treat yourself.  We noticed always there are people gathering around the duty free shop.

Scenic Tour and the Ferry Ride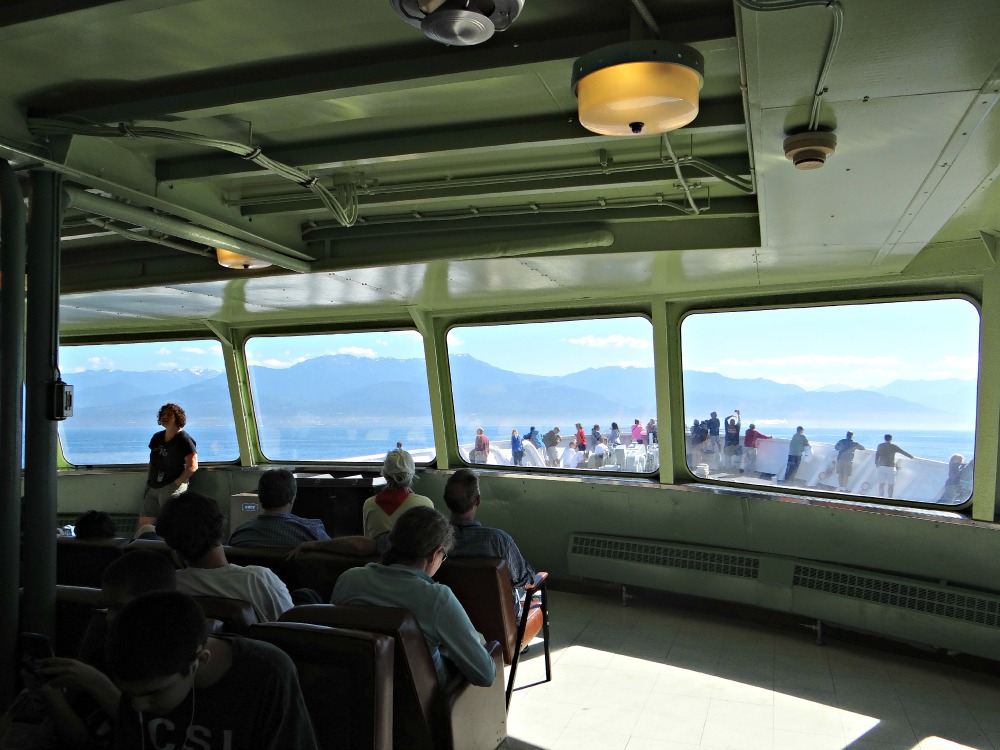 View of the Olimpic Mountains from Observation Area Inside the Coho
It was a thrilling bumpy ride crossing the Juan de Fuca Strait to Port Angeles. We don't know it is just a another windy day or a "Perfect Storm" or perhaps  the ride is always like this.  This is quit a different ride compared to BC Ferry ride.  The Big boat started to Sway Surge and Roll. We felt like riding a seesaw at one point.  This was my daughter's favorite part of the whole journey.  We enjoyed it very much too.  Lots of people were gathered in  front of the vessel. It is a place to enjoy the scenic view and the ride as well.
This vessel  has a nice and warm observation area inside,  we can see the beautiful Olympic mountain range right in front of us when reaching Port Angeles.  It is such a beautiful scenic view.


Beautiful Olympic Mountain Range. You see, People Standing in the Very Front of the Bow - Exciting Spot to be In!
90 Minutes to US
To get to Port Angels takes only 90 minutes.  We went through customs really fast.
And here we see " Welcome to Port Angels USA"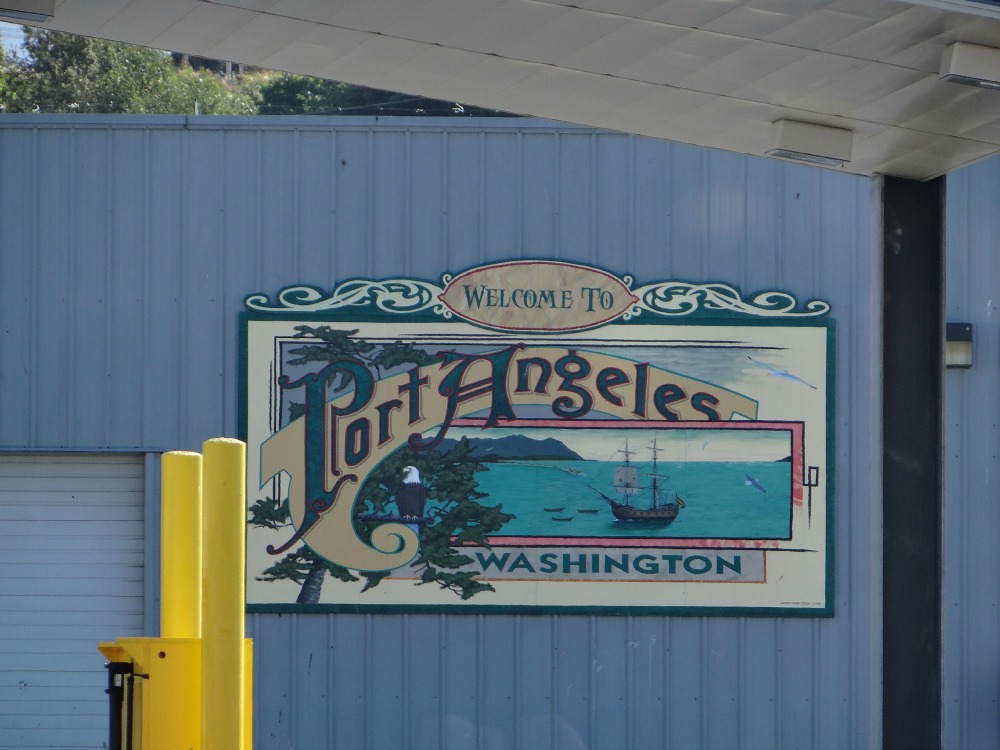 Entrance to Port Angeles
Victoria BC

›
Victoria Ferries
› [Black Ball Ferry Line]