IL Terrazzo- A Restaurant in Victoria BC for An Exceptional Dining Experience...


When selecting a restaurant in Victoria BC, I am prejudiced and tend to sway away if the restaurant is not by the sea - This is what my wife says.

Fine Dining in Downtown Victoria

---
IL Terrazzo didn't show up on  my radar screen for a while for  the same reason - This is not a seaside restaurant.  This little Italian escape is in the heart of downtown, but tucked away from the street and in a small alley.  So here's  an another reason to miss the place.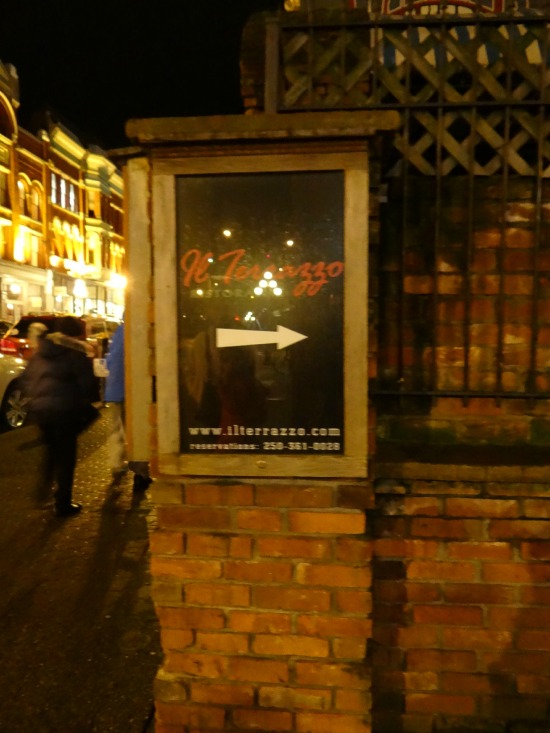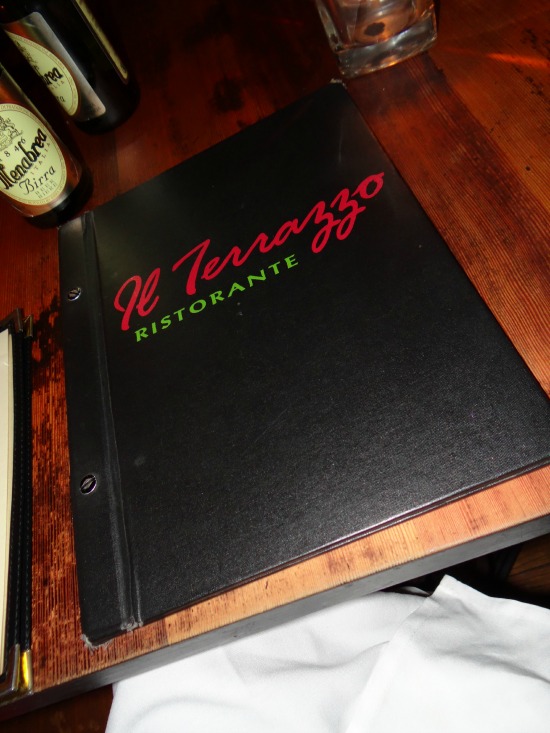 It's a challenge, can I get my biased eyes out of a seaside restaurants and still appreciate  by looking at the service, food, ambience, the atmosphere and restaurant experience.
Family Day Dinner
---
It was a Sunday, a day before family day (Feb 16 is the family day in BC Canada).
IL Terrazzo opens up for lunch 11.30 am to 3 pm  Monday to Friday.  They are open seven nights a week from 5 pm for dinner.
All voted for Sunday dinner at 6.30 pm.  We were lucky there were few seats still available when I called them around Sunday 2.30 pm.
It's good to predetermine a place to park when heading to a downtown Victoria restaurant.  However, I was lucky this time that I found a parking spot very close to Willie's Bakery on Johnson's Street.  II Terrazzo is right behind Willies on Waddington Alley off of Johnson's street.
Note: Waddington Alley has a long history. Built in 1858 is the only street in Victoria still paved with wood blocks.
Inside IL Terrazzo

---
Entrance to the restaurant is very nice and gave us very inviting appeal.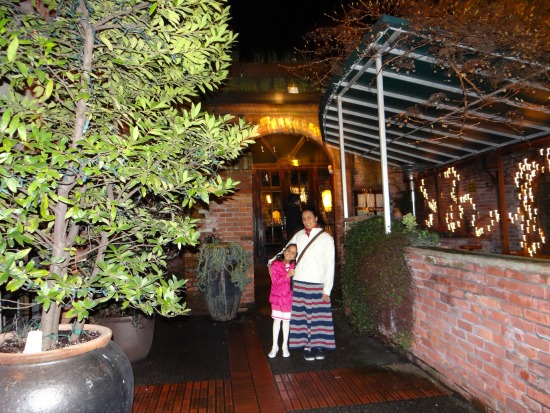 Entrance to IL Terrazzo
We were right on time for our reservation. Hostess met us in the front and kindly guided us to our table.
Romantic and cozy feeling inside.  This is well over one hundred year old building carefully restored to hold its  original look and feel.
Old brick walls are decorated with paintings. Some from well known local artists.  Tables lit by oil candles created a nice atmosphere. The aroma of the food made me hungry.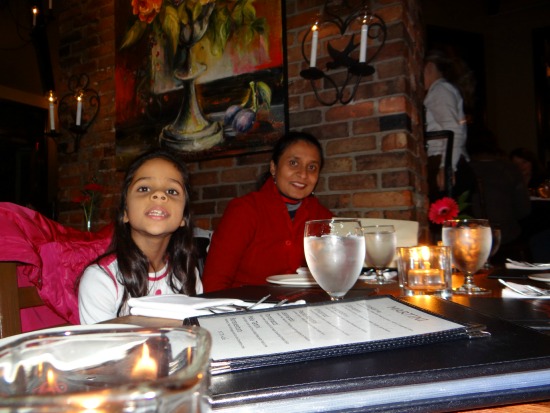 Enjoying Magical Candlelight Atmosphere at IL Terrazzo
This is not a super quiet restaurant.   Authentic Italian style…  sounds of clattering dishes and chattering people…
Amazingly, within a few minutes I totally forgot all other background noises.  The magical glow of candlelight, rustic old world setting and darker environment had taken  my mind to a different atmosphere.
They have set up candle light decorations to light up the restaurant, giving an old world Italian look.
Food and The Menu

---
The restaurant staff is very friendly. The server  handed us menus and even  offered his help to give us some suggestions.  I definitely needed some help as I was not so familiar with the items on the Italian menu.
 
We first ordered our drinks.  My dad needed a good beer.  Our server suggested Italian beer Menabrea.  I went for a beer too.  Margarita for Chammi, and as usual orange juice for mom and Lapaly.
Sipping our drinks…  and little help with our server, we started selecting our food from the menu.
A moment later server placed some warm bread right from the oven with Olive Tapenade. I just took a bite... Wow!  It was not just bread and butter we normally get elsewhere.  It was extraordinary and out of the norm. This is an appetizer that wakes you up and get you ready for a good meal.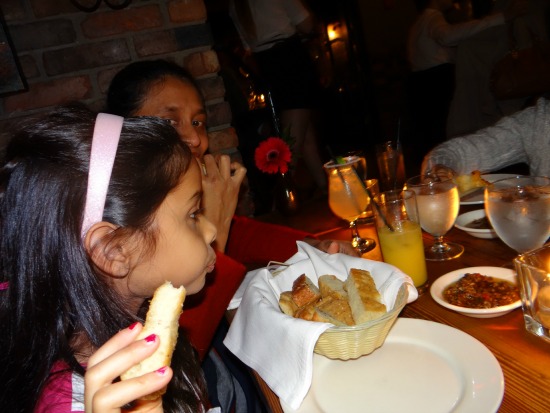 Lapaly Snacking on Olive Tapenade with Warm Bread
Our choices for the evening?
Chammi went for Linguine Marco Polo – linguine noodles mixed with grilled chicken breast, toasted cashews, mango, fresh basil and pimentos in a lemon cream sauce. 
I know it is delicious as she was not so ready for long conversation until she was almost done with her plate.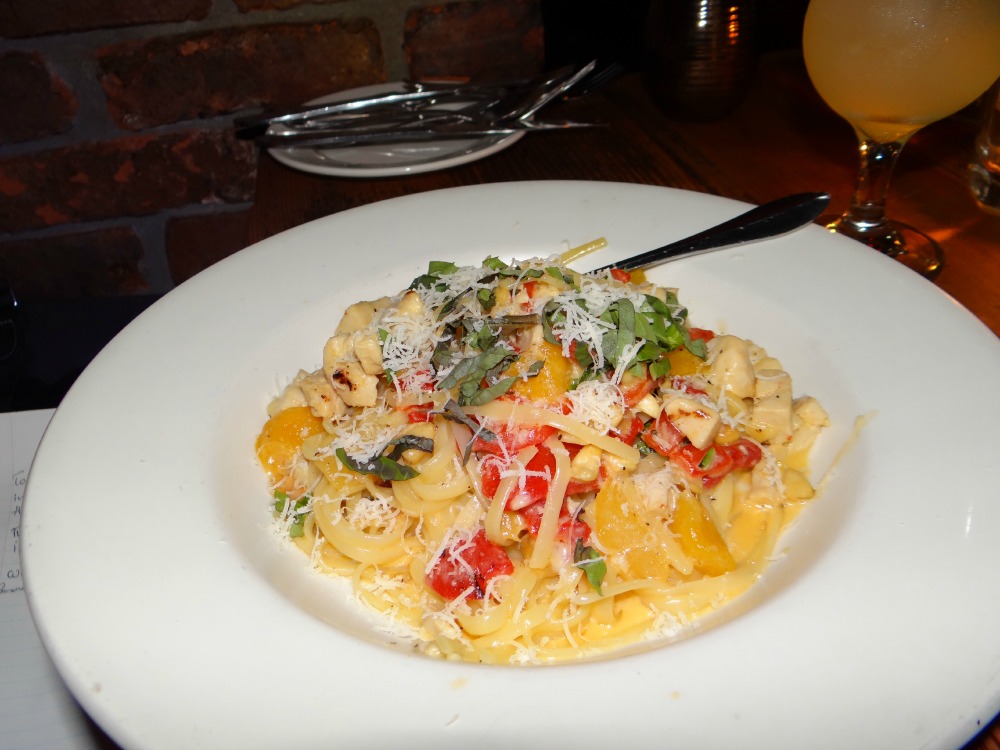 Linguine Marco Polo
Mom and dad both ordered Risotto all Fuoco con Gamberi – Arborio rice with diced prawns, fresh hot peppers, cherry tomatoes, toasted ground almonds, lemon, goat cheese, feta and arugula. They loved it.  Mom said it has a very unique taste.
They serve west coast seafood as well.  I wanted to try  west coast salmon with the Italian beer.  My choice "Salmone al Forno" is an open flame roasted salmon filet wrapped in prosciutto with avocado, cherry tomatoes, white wine and basil and Served with Yukon gold potatoes and glazed roasted vegetables.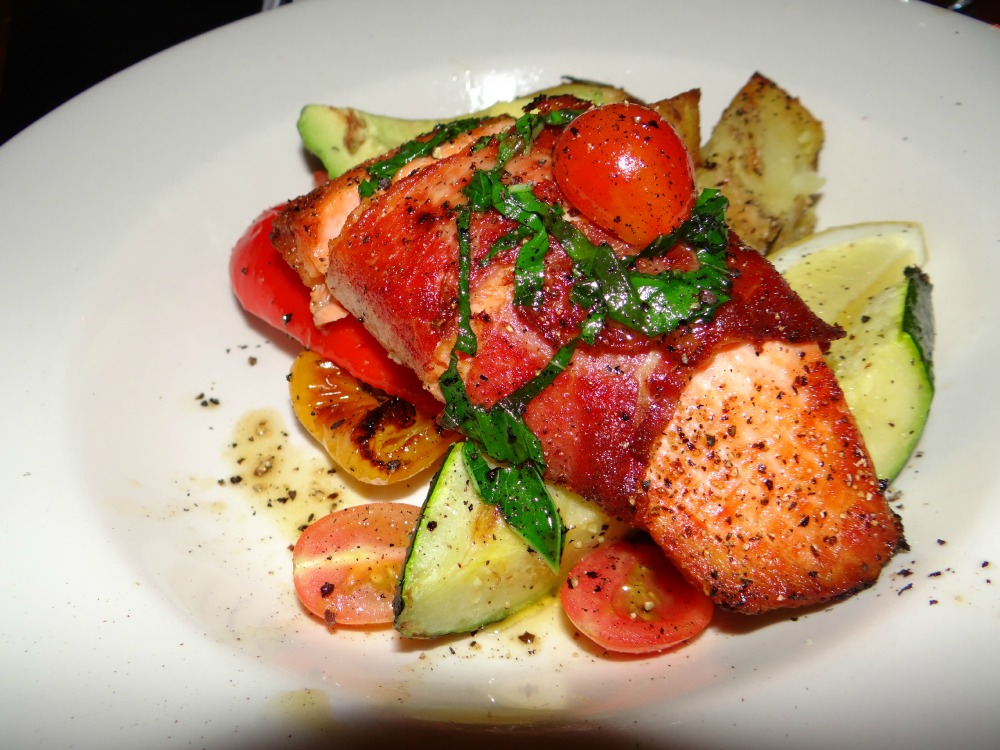 Salmone al Forno
What's for Lapaly?  Ooops... It's quite funny…  She quietly ate most of the appetizer, Olive Tapenade  and bread, and now she just wants more of that.
However, we made a deal with her to share Mommy's plate and Daddy's plate and save some room for the desert (her favorite part of a meal…. )
Here are two more examples from the menu:
Melanzane al Forno – Fresh pasta folded over breaded eggplant, roasted mushrooms, garlic confit, asiago and gruyere cheese. Baked in a creamy tomato, basil sauce topped with fresh baby kale
Linguine con Frutti di Mare – Linguine noodles tossed with prawns, mussels and scallops with tomatoes, garlic,chili flakes, white wine and parsley.
Dolci - Italian Dessert
---
We got  Pannacotta – Light Italian custard with white chocolate, vanilla bean flavors served with raspberry coulis and fresh berries, Gelato e Sorbetto and Cioccolato Italiano Flurless orange and dark chocolate cake with a sour cherry compote served with vanilla gelato for our dessert.

We polished off our plates... Good food.

The night came to an end over a coffee.  All happy and full.
It was a magnificent meal.  Prices are on the high end, but worth every penny for a popular upscale place in Victoria.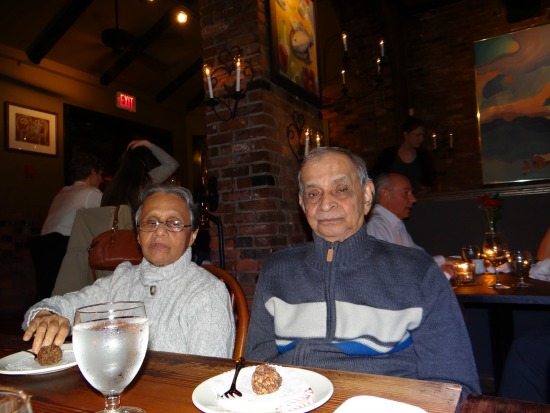 Mom and Dad
Wine From Around the World
---
One small regret is before selecting our drinks, we did not pay attention to their huge wine list  They have over 1000 selections from over 100 countries.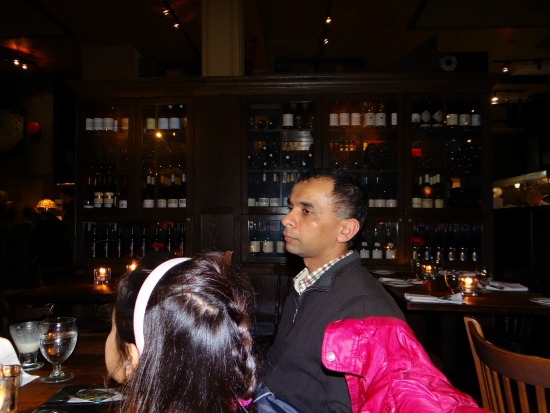 I will Pay Attention to their Huge Wine List Next Time – You See That in the Background …
Experience - IL Terrazzo Does it Right

---
On our way back home my wife asked me how is the seaside experience? 
Then only I remembered that my mind did not fly out of the restaurant windows searching for a sea view.  IL terrazzo food, ambience and the setting were super excellent at keeping me focused inside the restaurant at whole time.
 IL Terrazzo surpassed my expectations and taught me not to judge a restaurant by the view of the sea but to live with what's missing.
" In this universe we are all trapped in time "  We live only anywhere once, and making the most of every experience is what it's all about!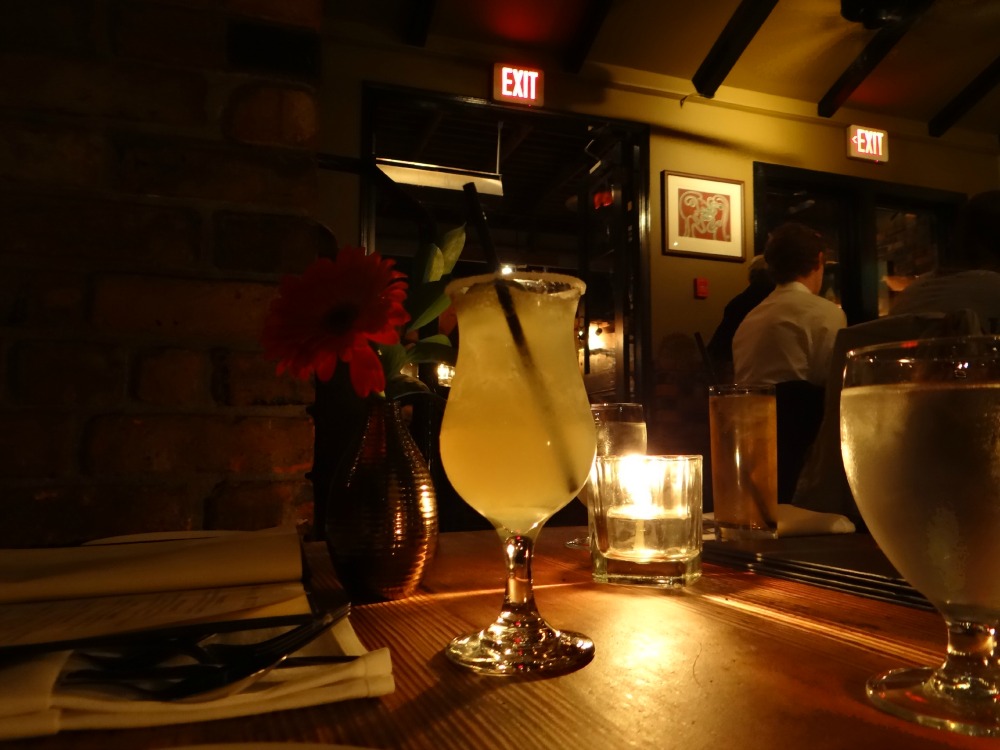 IL terrazzo delivers a five star real Italian restaurant experience
I am looking forward for an another visit and will remember next time not to  miss a good bottle of wine to complement our food.
Map and Directions

---
Victoria BC

›
Victoria BC Restaurants
› [IL Terrazzo]
Back to the Top